This post was contributed by Morweb.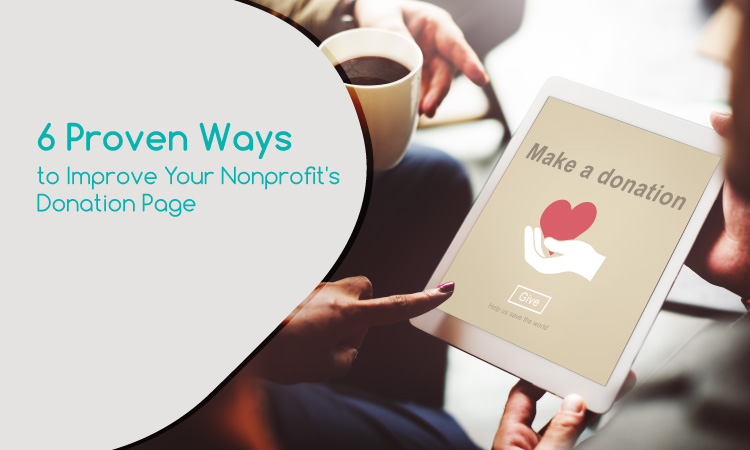 As part of your digital strategy, your nonprofit most likely has an online donation page to collect charitable gifts from your supporters. However, the quality of your donation page may impact the amount of funds it brings in.
If you're looking for an easy online fundraising idea, creating an optimized donation page for your nonprofit is one of the best first steps you can take. After all, almost every virtual fundraiser should begin with a well-designed donation page as its foundation.
Here at Morweb, we've worked with several organizations to develop engaging websites, and through our experience, we've seen what makes for an effective donation page design. Here are some of our favorite tried-and-true ways to improve any nonprofit donation page:
Optimize for mobile users.
Incorporate gamification elements.
Brand it to your nonprofit website.
Set suggested donation amounts.
Embed a matching gift tool.
Emulate successful designs.
When you incorporate these aspects into your own nonprofit donation page, you can create a positive donor experience and set your organization up for digital fundraising success. Are you ready to learn more about each of our suggested best practices? Let's get started.

1. Optimize for mobile users.
In today's technological age, any web experience should be easily accessible on a mobile device. A nonprofit's online donation page is no exception.
In fact, studies show that more than 50% of nonprofit web traffic comes from mobile devices. That means if your own nonprofit fails to provide a mobile-friendly experience, you're likely missing out on a significant portion of fundraising revenue.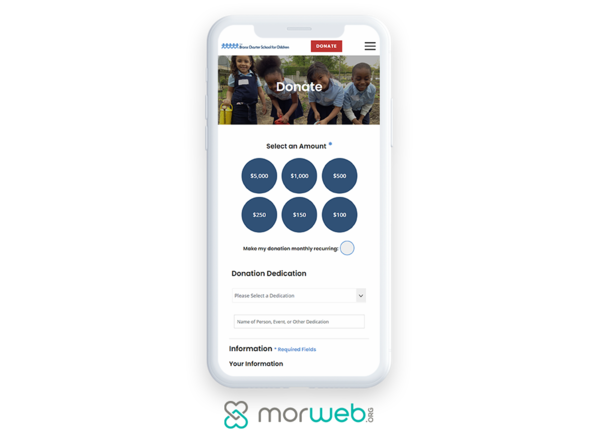 Making sure your donation page simply loads on a smartphone is no longer good enough. Instead, every element should resize to fit any screen size without excessive scrolling, pinching, and zooming.
In other words, it should be just as easy to complete your donation form from a mobile device as it is on a full-size desktop computer.
A content management system (CMS) that offers automatic mobile responsiveness will streamline this process, so you don't have to worry about developing multiple versions of your website for desktop users, mobile users, and tablet users.

2. Incorporate gamification elements.
Gamification has long been a powerful fundraising strategy for interactive events such as silent auctions. But did you know that it is also a great way to spruce up your online donation page?
Incorporating gamification into your donation page simply involves transferring typical elements of gameplay directly into your online donation page. One of the most popular ways to do so is with a built-in, automatically updated fundraising thermometer.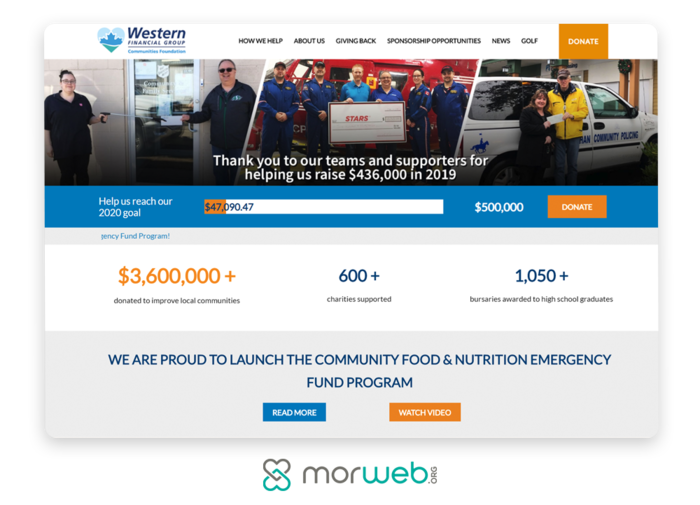 According to this guide, fundraising thermometers are effective because they appeal to our visual senses, keep track of fundraising goals, show progress to donors, and encourage supporters to give.
To add this feature to your donation page, make sure your CMS supports fundraising thermometers. Otherwise, you may need help from a web developer to create a custom solution.

3. Brand it to your nonprofit website.
A big part of ensuring effective nonprofit website development is strategic and consistent branding. A branded donation page reinforces the user's connections to your organization and ensures the donor knows exactly where their money is going.
Since your branded donation page is embedded directly within your nonprofit website, rather than hosted on a third-party website, users will naturally feel that your donation page is trustworthy and secure.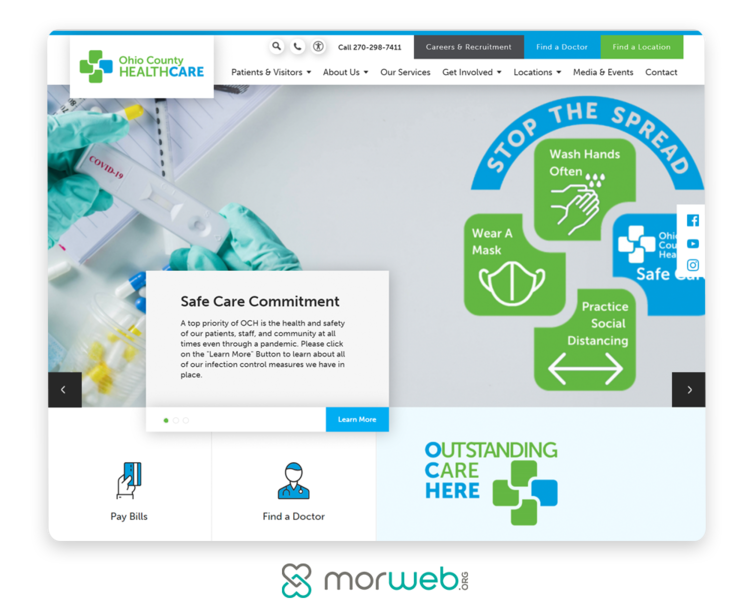 Be sure to include the following elements throughout your donation page (and your overall nonprofit website):
Your nonprofit logo
Your color scheme
Consistent and easy-to-read fonts
Effective nonprofit branding is crucial for building and maintaining a reliable and dependable website. When your donors trust your organization, you can continue to build long-term relationships and secure lasting support.

4. Set suggested donation amounts.
While many donors will visit your donation page to make smaller contributions (rather than major gifts), there are a few strategies to encourage a higher average donation amount. One of our top suggestions is to set suggested donation sizes on your online donation page.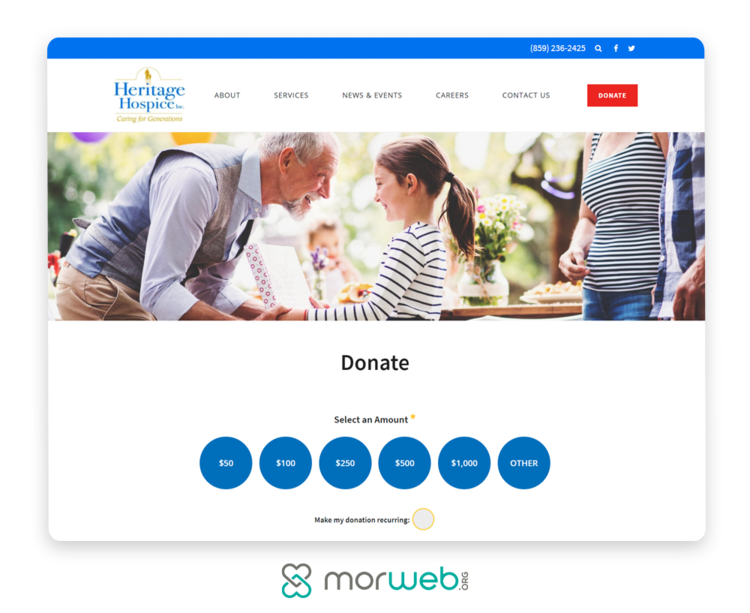 Suggested donation amounts utilize the power of social proof to coax larger donations out of tentative supporters by showing what the "right" donation size is. They give visitors an idea of what others are giving, which may encourage them to give more than they initially planned. Here are a few best practices to consider when including suggested gifts:
Adjust suggested donations based on previous gift sizes. If you're going to set suggested gift sizes, you might be wondering how to choose the right numbers. We recommend adjusting your gift sizes based on data collected from previous campaigns. For example, let's say your last online fundraiser brought in an average gift size of $50. For your upcoming campaign, you might set gift sizes at $50, $100, $200, and $500 to encourage increased donations.
Offer varying incentives at different giving levels. One way to encourage donors to choose a larger suggestion from your list of gift sizes would be to offer donation incentives. For example, a gift of $25 might earn the donor a branded coffee mug, while a gift of $50 would receive a custom t-shirt. A donor who might have chosen the $25 gift could be inspired to up their donation in order to get a t-shirt.
Include an option to set your own donation amount. It's important that you don't restrict your donors from having the option to choose their own gift. If you include four suggested donations, it's crucial that you also include a customizable box to input their own gift size, if they so choose. That way, donors can go smaller (or larger!) than your suggested gift sizes.
Suggested donations are a simple yet powerful way to raise more from your donation page. Rather than manually inputting a donation amount, donors can simply click a button, quickening the donation process altogether.
Plus, it can even make the giving process simpler by removing an element of uncertainty. This way, you can start to receive more funding through additional donations as well as larger ones.

5. Embed a matching gift tool.
Corporate matching gifts are an underutilized source of charitable funding for organizations worldwide. The problem is that the majority of eligible donors are unaware that these programs exist, and many nonprofits lack the resources necessary to leverage them effectively.
That's where an embeddable matching gift tool comes in. According to Double the Donation's guide to corporate matching gift programs, a matching gift database and company search tool can help any organization raise more through corporate giving.
When choosing the right tool for your donation page, be sure to look for the following key features:
Comprehensiveness: More than 18 million individuals work for companies with matching gift programs. That means it's important to find a matching gift tool that has data on several companies' programs to increase the likelihood that your donors will find their own employers in the database.
Continual updates: Many companies update their corporate giving guidelines each year, so it's important that you find a matching gift search tool that prioritizes continual updates. That way, you won't lead donors to outdated and inaccurate information about their employers' current giving programs.
User-friendliness: Make sure you find a matching gift tool that's easy for the average user to navigate and find the information they need. Otherwise, it doesn't matter how much data is housed in the tool if your donors can't find the necessary information to determine their eligibility.
When you successfully leverage matching gifts to your supporters, you have the opportunity to raise significantly more for your cause—both through personal contributions and corporate gifts. Your online donation page is the optimal place to include this, so you can catch donors when their engagement is at its peak.

6. Emulate successful designs.
Sometimes the best way to improve your own donation page is by gathering inspiration from other organizations with successful designs. For example, we recommend checking out this Morweb list of best nonprofit websites. Each of these websites has a strategically designed nonprofit donation page crafted to raise more for their particular cause.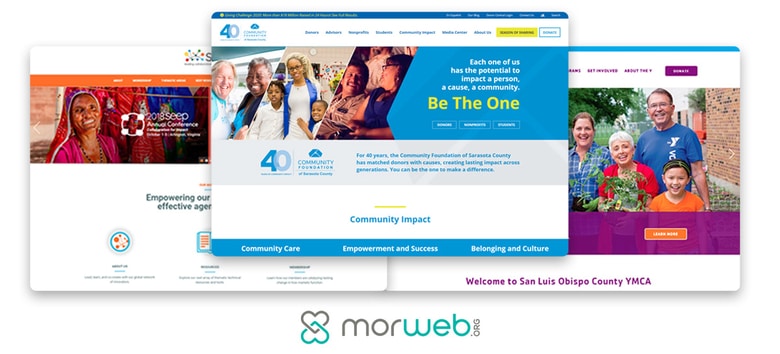 When looking at successful donation page designs, be sure to take note of the following key features:
Visually appealing design: Your donation page should be pleasing to the eye and enticing to draw donors in. However, it's important to use white space strategically so as not to overwhelm the user and distract them from completing the form.
Simple navigation: Make sure donors can easily locate your donation page by including a 'Donate' CTA in your navigation. Otherwise, they won't be able to contribute to your cause. Once they've landed on your donation page, it should be clear and easy for the user to determine how to submit their gift.
Streamlined process: Limit the number of required fields on your donation page to the essentials (e.g. name, contact information, etc.), and make sure supporters are able to complete the entire form as quickly as possible. A lengthy or otherwise complicated process will often lead to donation page abandonment, which means you'll miss out on revenue.
When exploring other organizations' designs, look out for our other previously mentioned donation page suggestions and see these best practices in action. You might also keep your eyes peeled for donation pages with room for improvement, so you don't make the same mistakes.
---
Whether you're using your online donation form as a standalone fundraising strategy, or in tandem with another revenue-generating idea (like a virtual auction), it's a good idea to spend time developing a well-designed donation page beforehand.
By taking these impactful suggestions into consideration, you're sure to come up with a donation page that will stand out online and raise more for your cause. Good luck!
---
Guest Author: Murad Bushnaq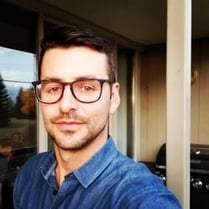 Murad Bushnaq is the Founder and CEO of Morweb. Since its inception in 2014, Murad has acted as Creative Director and Chief Technologist to help nonprofits spread their vision online through engaging design, intuitive software and strategic communication.