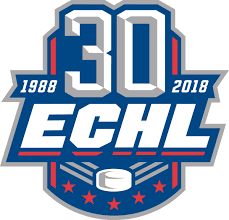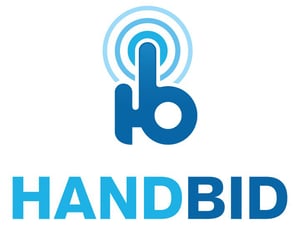 Handbid and the ECHL have announced a partnership for the 2017/2018 season which names Handbid as the ECHL's official mobile auction provider
PRINCETON, NJ., DEC 1, 2017 - The ECHL announced on Friday that the League has partnered with Handbid as the "Official Mobile Auction Provider" of the ECHL. The Handbid platform will be used exclusively on all League-generated mobile jersey auctions, including the Marvel Super Hero program, 2018 CCM/ECHL All-Star Classic and 2018 Kelly Cup Finals.

"Handbid allows our fans to not miss a minute of action on the ice by bidding on their favorite player's jersey right from the comfort of their seat," said ECHL Director of Marketing and Licensing,Todd Merton. "The best part of the Handbid app is that hockey fans all over the world now have the opportunity to participate in our jersey auctions in real time. We have seen first-hand the added excitement that a Handbid auction brings to the experience of our fans and we are very pleased to partner with a company at the forefront of mobile auction technology such as Handbid."

"Hanbid's mobile bidding platform has proven to drive greater engagement with less effort and superior results," said Handbid Founder/CEO Jeff Porter. "We are excited to bring Handbid to the ECHL and help their teams realize the same great results that our NHL and NBA partners have seen on our platform."

About Handbid
Handbid's mission is to provide non-profit organizations and sports teams a native mobile silent auction app solution that improves engagement with less effort, and superior results. Bidders and auction managers both love Handbid for its ease of use , beautiful interface, game-like experience and streamlined processes.

Registration, bidding, checkout and payments are all automated in Handbid, reducing lines and stress. In addition, both bidders and auction managers have a real-time view into bids and auction revenue. Bidders can participate from anywhere: their home, their seat, or at an event. Auction managers can communicate with all bidders directly via mobile messaging to invite them to new auctions and give them important updates. In the end, organizations that use Handbid have a sense of control over their auction that they have never had before. More about Handbid can be found at www.handbid.com or Twitter or Facebook.

About the ECHL

Began in 1988-89 with five teams in four states, the ECHL has grown into a coast-to-coast league with 27 teams in 21 states and one Canadian province for its 30th season in 2017-18. There have been 633 players who have gone on to play in the National Hockey League after starting their careers in the ECHL, including 10 who have made their NHL debuts in the 2017-18 season. The ECHL has affiliations with 26 of the 31 NHL teams in 2017-18, marking the 21st consecutive season that the league had affiliations with at least 20 teams in the NHL. Further information on the ECHL is available on its website at ECHL.com as well as on Twitter and Facebook.
Media Contact:
Ray Schulte - President / CEO
Schulte Marketing & Public Relations, Inc. on behalf of Handbid
Ray@SchulteSports.com / (410) 350-6226