---
We continue our series of silent auction tips that come right from our "in the trenches" experience. If you read our previous blog, then you learned all about how to treat your auction like a business. Reading that first post will better prepare you for what's on the way. When you are done, pop back over here and keep going with Tip 2: Understanding Product Merchandising.
TIP 2 - UNDERSTANDING PRODUCT MERCHANDISING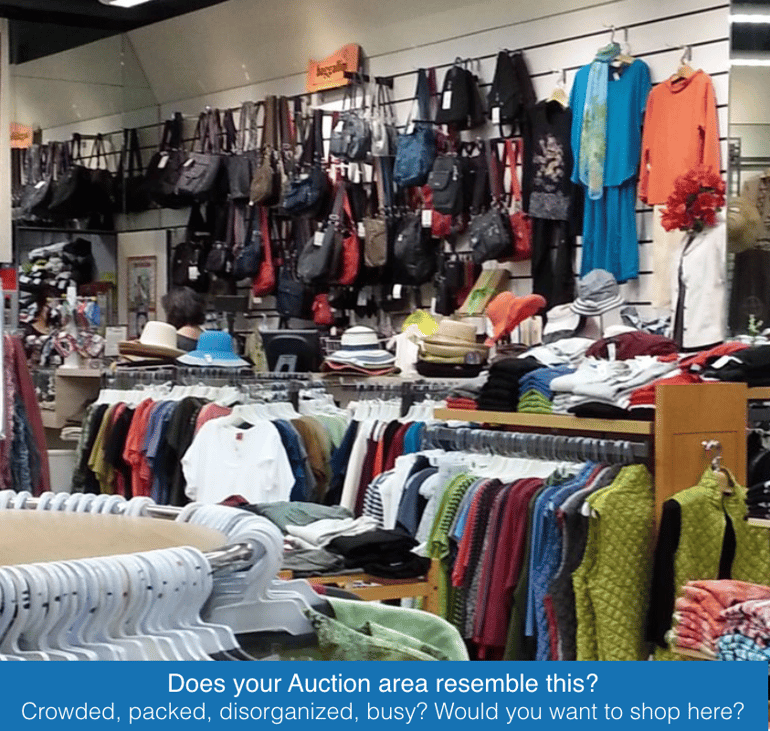 Believe it or not, there is a science to how people shop. In fact, there is a ton of research behind shopping behavior. One of the most well known books on the topic was first introduced in 1999: Why We Buy, by Paco Underhilll. By closely observing shoppers, Underhill was able to draw remarkable conclusions about how to better configure retail stores to increase sales. And, lucky for us, many of the principles he recommends also apply to your silent auction areas.
Just like in a retail store where converting customers into sales is the objective, getting bidders to bid more often on auction items is your primary objective. So how do we do that? We do it with good merchandising practices. Here are some sound tips on how to improve your bidder to bid conversion ratio.
LOCATION LOCATION LOCATION!
Where is your auction area? Off to the side? In another room? Your guests eyes are in front of their head, so make sure they can clearly see where your auction area is located or at least can see signage directing them to the location area. Guests who need to search or walk a long distance to the silent auction area may bypass it altogether in lieu of heading straight to the bar.
TIP: Put your bar in or just beyond the silent auction area so that guests can view the items on their way to get a drink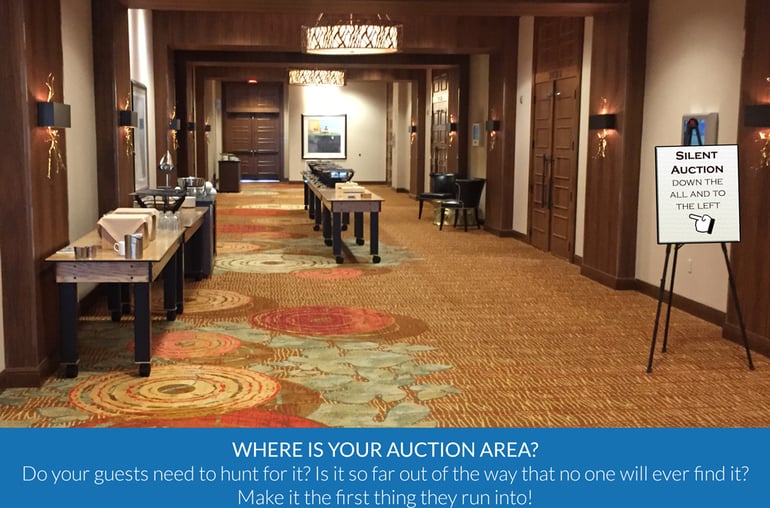 SIZE MATTERS....
No one likes a crowded room except a pick-pocket, so make sure you plan to give your auction area enough space for your guests to comfortably browse. Anyone who has experienced the Apple Store layout vs. TJ Maxx knows what we mean. When planning your event, ask yourself, "Is the room/venue large enough to display your auction items as well as host all of the event attendees?"
A good way to think about this is the "red wine test"… If you have rows of display tables, guests should be able to stand back to back and bend over to read the description on the auction item without bumping into each other…. while allowing a third guest to walk comfortably between them with a glass of red wine in their hand. This is about four to six feet of space between rows of tables. Does your space pass the "red wine test?" If you have a crowded room, anything less than this amount of space is uncomfortably tight for your guests.
Additionally, the room should have enough display space. If it's worth selling, it's worth showing. I have been to many auctions where the room was too crowded for guests to walk around the silent auction area. While mobile bidding helps to somewhat off-set this problem, it doesn't help the overall guest experience of the auction.
Next, think about the layout of your auction area. Where will guests enter and exit the room? Will you have food passed or available in the same area? Can your guests easily grab a drink and continue to browse your items? These are important considerations when setting up an auction area. It should FEEL comfortable as well as LOOK inviting to all guests.
LIGHT THE NIGHT
While ambiance or "mood" lighting may match the elegance of your event, it makes it difficult to sell your items. Guests need to see items, be able to read descriptions and have a clear understanding of what they are bidding on. Even in a mobile bidding situation where descriptions are also available on their phones, guests want to look at gift baskets, see artwork, examine autographs. Adequately lighting your auction items is essentially. Highlight your goods. During the live auction, your auctioneer needs to be able to see bidders and bid cards. In both situations, Poor lighting will often hurt the outcome of an auction.
We talk about the importance of properly lighting your auction area in our Auction Displays eBook. Click the link below to download the eBook today:
THE STARS OF THE SHOW
Consider the difference between items displayed at a high-end department store, the Apple Store, or Tiffany and Co., as opposed to a warehouse bulk store, a discount clothing store…. How items are displayed in these stores is greatly different and shows the difference in value, or perceived value, of the items. You want your guests to pay top dollar for your auction items. In order to make this happen, items should be displayed as if they were in a high-end retail store. If they look like they are in bulk retail, expect bulk-retail prices. We have seen some amazing displays, and we have seen some "not so amazing".
Her is an example of a well organized auction display. Lots of light, lots of room, good labeling of the item.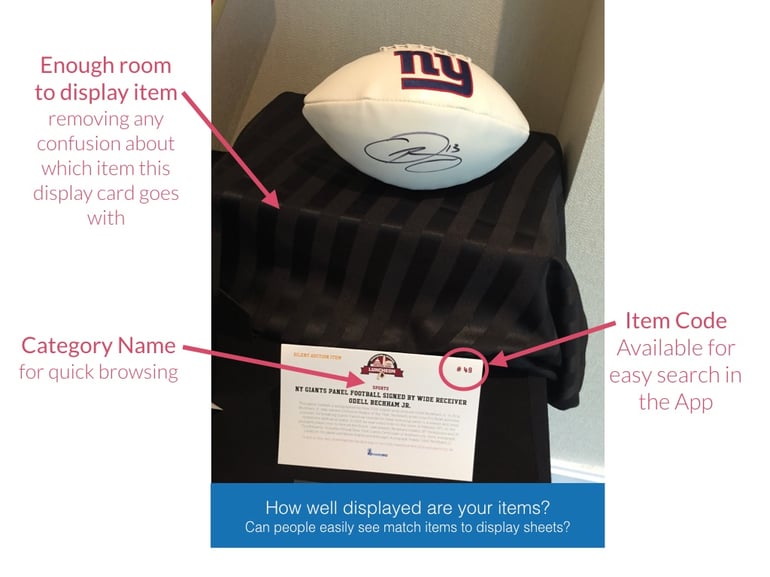 Some additional tips to create better displays:
Have a gas grill you are auctioning off? We recommend you put it together.
Display the bike, not a photo of it
Expensive jewelry to sell? Don't show a photo of it, put it on a beautiful model.
Build that tailgate area. We attended event where they did a great job of displaying a tailgating package. It has a pop-up tent, 2 chairs, a grill and some college fan gear. Everything was assembled and displayed as if the the tailgating party was about to start. The package had no problems getting bids.
Great product merchandising will make a big difference in your ability to sell items at a higher price during your auction. Take the time to focus on creating a well-lit, appropriately sized and located auction area with inviting displays. We feel strongly that if you do that, you will make a big impact on bidder engagement and auction revenue.
Stay tuned to the next blog in this series which will cover another tip on how to improve your next auction event.
Are we going too slow? Want to skip ahead and get all 7 tips? Then just download our Auction Tips eBook below and jump to the Head of the Class!


---